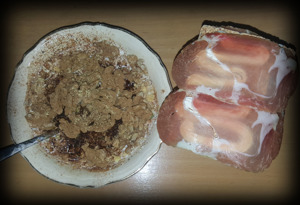 This week has been up & down since I've been sick and we had a birthday, which means it has been a lot of sweets and other things like gluten & sugar.

But now I'm back in track with my healthy lifestyle.

For lunch after my workout I had my healthy müsli with walnuts, cinnamon, ginger & a little bit of chili powder.
In the picture there was two wholegrain hardtacks, but it was too much for me to eat so I save them for tomorrow instead.